PET ODOR AND STAIN REMOVAL
EVERY DOG'S DILEMMA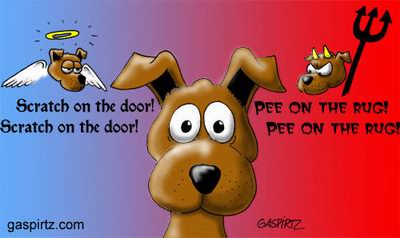 Urine-Feces-Vomit-Dander-Body Oil
Accidents Do Happen
One predictable part of owning a pet is that accidents will happen! Dog and cat urine, vomit and feces, are all inevitable, especially when our beloved pet is not feeling well.

Along with the obvious staining that occurs to your carpet, unhealthy bacteria and odors are lurking beneath. While we live in the same area as our pets, we rarely notice the intensity of these odors. But when friends and family come over to visit, the problem is well noticed whether they will tell you or not.

Urine can cause permanent damage to the dyes in carpet, especially if the residue is not dealt with in a timely manner. Keep in mind that even with professional cleaning agents, that the urine may have already done irreversible fiber damage, and a spot may not be removed, but only improved. This is why it is important to have urine completely removed as soon as possible.

If you have a pet, we are here to help you. We offer expert pet stain removal that goes deep to the source. We also offer outstanding Carpet Protection packages that will greatly reduce the chance of permanent damage to your carpets and upholstery.

Pet Odor Removal
There is much more to effective pet odor removal than just spraying a little deodorizer on the spot. Perfume cover-ups will fail once the covering scent wears off. Such cover-ups rarely remove the damaging source to your carpet; the urine salts and bacteria.

With state-of-the-art equipment, we will remove as much of the source as is possible before applying professional odor digesters and modifiers to the problem. In the event of deep penetration, such as urine, which can go all the way to the backing and the pad, we have specialized equipment that enables us to extract all the way to the floor-boards.

We will do much more than just spray on a temporary cover-up, collect your money, and run! There is a vast difference between professional odor removal and what many cleaners consider to be pet odor removal. Try us out and see the difference!